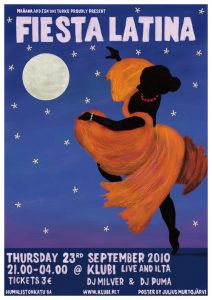 DON'T MISS THIS PARTY!!
Mañana & ESN Uni Turku proudly present,
the original and the best latin party in Turku:
…¡ FIESTA LATINA !
Hot latin music – all night long!
Every autumn and spring it has been one of the favourite events organized for Finnish and foreign students. Now it's here again with two dance floors: dj Milver @ LIVE and dj Picante @ ILTA
Special drinks and prices: Tinto de verano, tequila shots, corona+nacho plate..!
See you on Thursday 23.9. at Klubi
(Humalistonkatu 8a) from 9pm to 4am.
Tickets 3e.
WHAT? Fiesta Latina – salsa, merengue, bachata, rumba, samba, reggaeton
WHERE? At Klubi (Humalistonkatu 8a) http://www.klubi.net/tku/html/eng_index.html
WHEN? 23rd september, 9pm – 4am
The first 100 to arrive will get a Fiesta Latina-Klubi overall mark that cannot be found elsewhere!!
We are also giving away 50 free dance lesson tickets to Salsa de Cuba (Worth 9€ each) to those with best dance moves or best spirit!! (www.salsadecuba.fi)
Welcome!
Mañana & ESN Uni Turku