1. joulukuuta
Joulunodotus käynnistyy tänä vuonna UTU Beaver Huntersin joulukalenterin ensimmäisestä luukusta löytyvän talvisen majavan myötä. Odotettavissa on muistoja vuosien varrelta, tuoreita terveisiä ja kaikkea siltä väliltä. Seuraa kalenteria täällä sekä sosiaalisen median kanavissamme, Facebookissa, Instagramissa ja Twitterissä.

Day 1
Countdown to Christmas starts with a wintry version of Your UTU Beaver Hunters familiar beaver. Check our social media channels daily for memories through the years, meeting some new faces and everything in between.

2. joulukuuta
Olet sitten päivittämässä omaa vaatekaappiasi tai pähkäilet joululahjojen kanssa, fanituotekaupastamme löytyy ratkaisuja. Joulusesongin kunniaksi valikoimaan on livahtanut myös uusi hieno majavadesign.

Saatavilla myös maskit Beaver Hunters -logolla.

Day 2
Updating your wardrobe or trying to figure out Christmas presents? Our merch store has you covered. Celebrating the season, we've added another fabulous beaver design.

Also available face masks in Your UTU Beaver Hunters colors.

https://utufootball.spreadshirt.fi/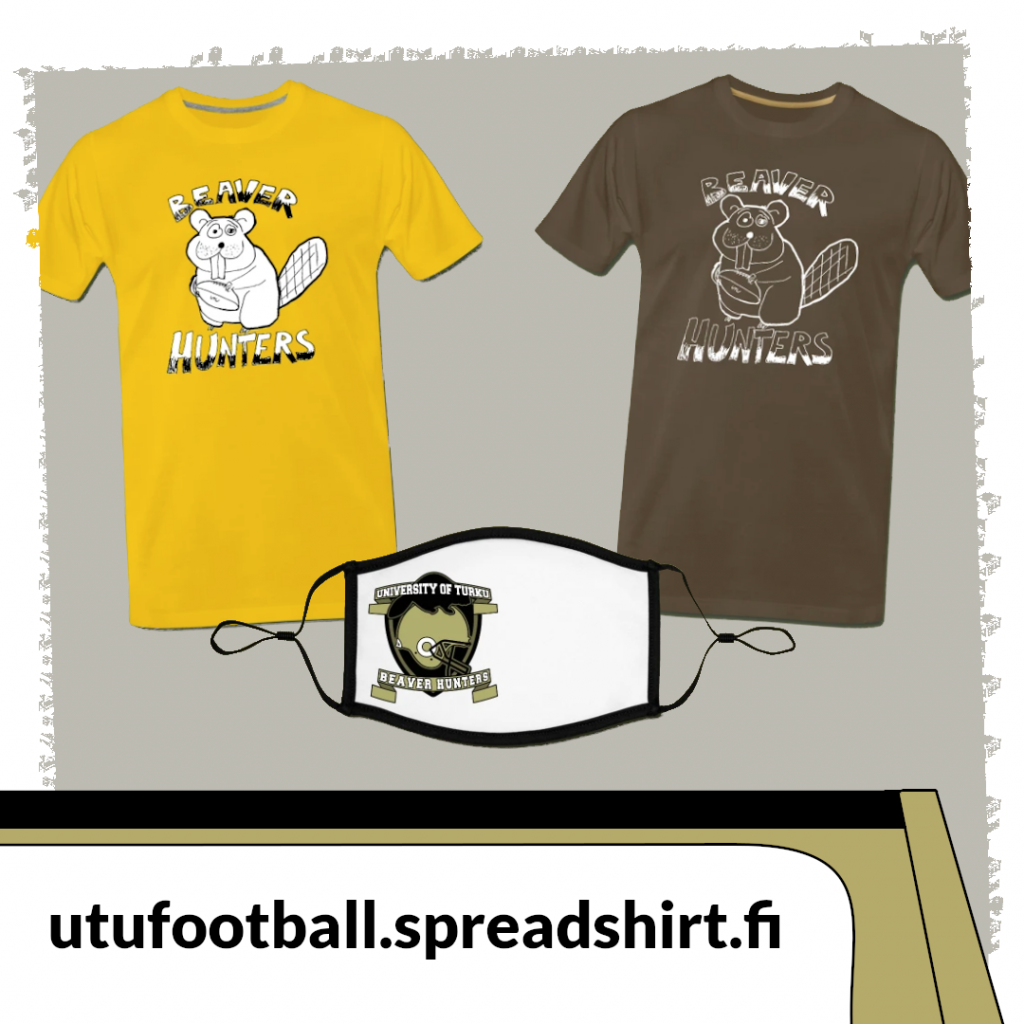 3. joulukuuta
"Hän taipuu, hyppää, varmaan osaa kokatakin!"
Tänään palataan ajassa muutama vuosi taaksepäin, kevääseen 2017 ja vierasotteluun Otahallissa Aalto Predatorsin vieraana. Laitahyökkääjä Jaakko Turto ihastutti ja vihastutti kotijoukkueen TV-selostajia akrobaattisilla kiinniotoillaan.
Lähetys kokonaisuudessaan löytyy OUBSin Youtube-kanavalta, linkki alla.

Day 3
"He can bend, he can jump, perhaps even cook!"
Today we have a throwback to 2017 and to a road game at Aalto Predators in Otahalli. WR Jaakko Turto made the announcers wax poetic about his abilities to catch the football.
Full broadcast is available at the OUBS Youtube channel, see link below.

https://www.youtube.com/watch?v=_OrJfJLerfc

4. joulukuuta
Joulun lähestyessä haluamme välittää kiitokset myös yhteistyökumppaneillemme. Mikäli tarvitset mitä tahansa jefuvarusteita, suuntaa Jefu.fi -verkkokauppaan. Koodilla GOTURKU saat vuoden loppuun asti 5% alennusta tilauksestasi (kypäriä lukuunottamatta) ja tuet UTU Beaver Huntersin toimintaa.

Day 4
We wish to extend our thanks to friends and sponsors. If you need any football gear, head over to Jefu.fi. With promo code GOTURKU you'll get 5% off your order (not applicable to helmets) and support Your UTU Beaver Hunters. Valid until end of year.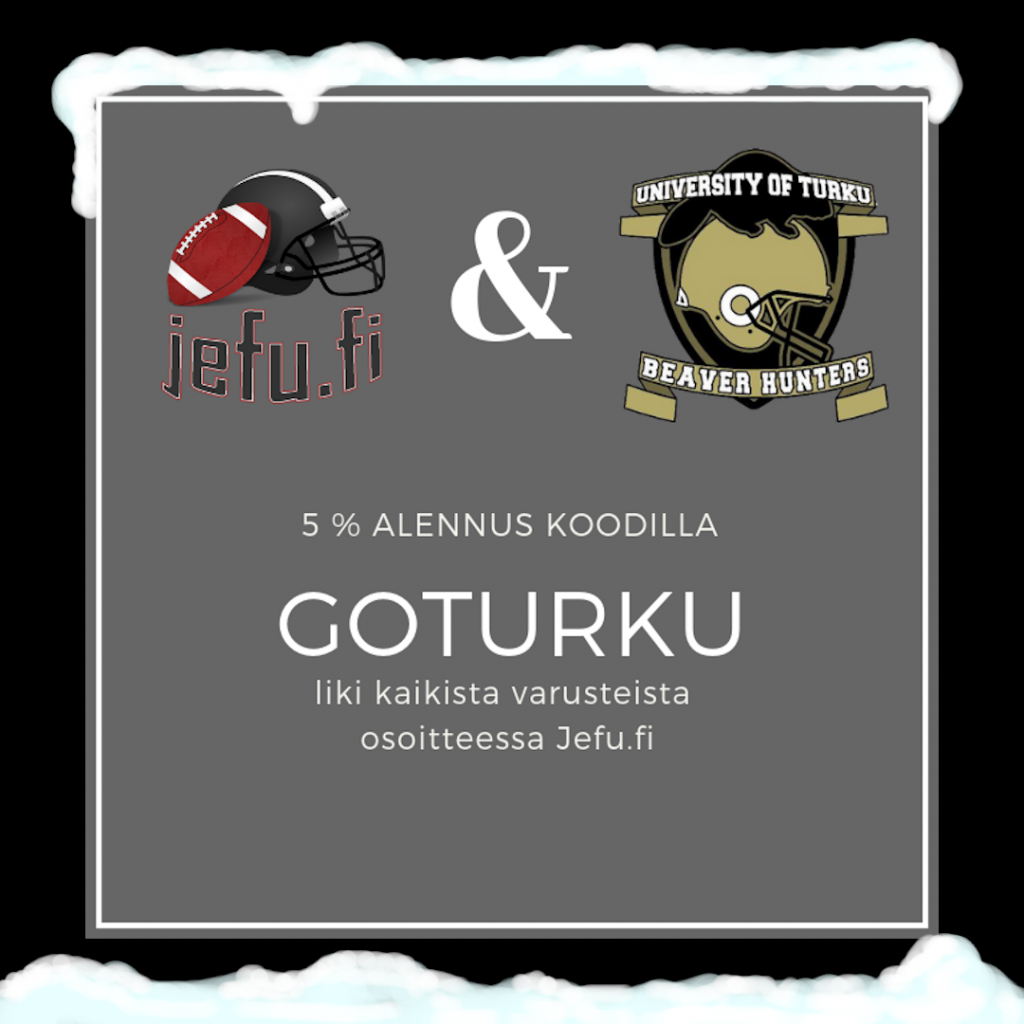 5. joulukuuta
Tänään päästään vähän raottamaan verhoa myöhäisillan treenitunnelmiin. Mitä pojille kuului kun heidät kesken harjoitusten napattiin kameran eteen?

Day 5
Taking a quick look at our late night practice. What did the boys have to say when our cameraman intercepted them between drills?

6. joulukuuta
Hyvää itsenäisyyspäivää!
Tänään selaamme historian lehtiä vuoden 2014 toukokuun 2. päivälle. Tuolloin käynnistyivät ensimmäiset korkeakouluopiskelijoiden amerikkalaisen jalkapallon MM-kisat Ruotsin Uppsalassa.
Turnauksen avausottelussa kohtasivat Suomi ja Kiina, ja historiallisen ensimmäisen pistesuorituksen juoksi maaliin UTU Beaver Huntersin keskushyökkääjä Henri Routila. Maajoukkueessa pelasi Routilan lisäksi runsaasti muitakin UTUn pelaajia, olihan Beaver Hunters juuri pari viikkoa aiemmin voittanut kolmannen perättäisen Suomen mestaruutensa.

Day 6
Happy Finland's Independence Day!
Today we turn back time all the way to May 2nd 2014. Inaugural American Football University World Championships kicked off in Uppsala, Sweden.
First game featured Finland and China, and the historic first points of the tournament were scored by UTU RB Henri Routila. Finnish national team featured a lot of Beaver Hunters players, fresh off their third straight national championship.

7. joulukuuta
Jenkkifutis – Ei löntystelijöille!

Day 7
American football – Don't just mosey around!

8. joulukuuta
Kaikilla on oma tarinansa, miksi juuri jenkkifutis on hänen lajinsa. Puolustuksen tukimies Kimmo Kaakisella syyt ovat selkeät.

Day 8
Everyone has their own story on why they chose football. LB Kimmo Kaakinen with real talk. "I can't skate and I hate floorball."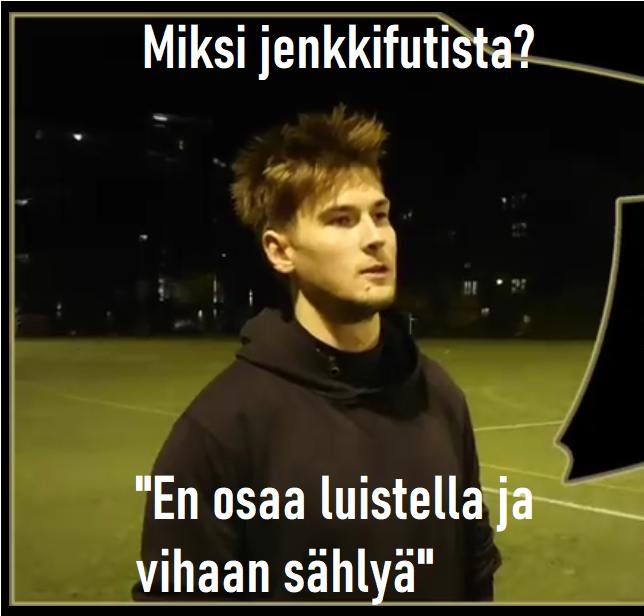 9. joulukuuta
UTU Beaver Hunters lähettää talviset terveiset kaikille majavaystävilleen ympäri korkeakoulujenkkifutismaailmaa!

Day 9
Season's greetings to all our beaver friends around the college football world, from Your UTU Beaver Hunters!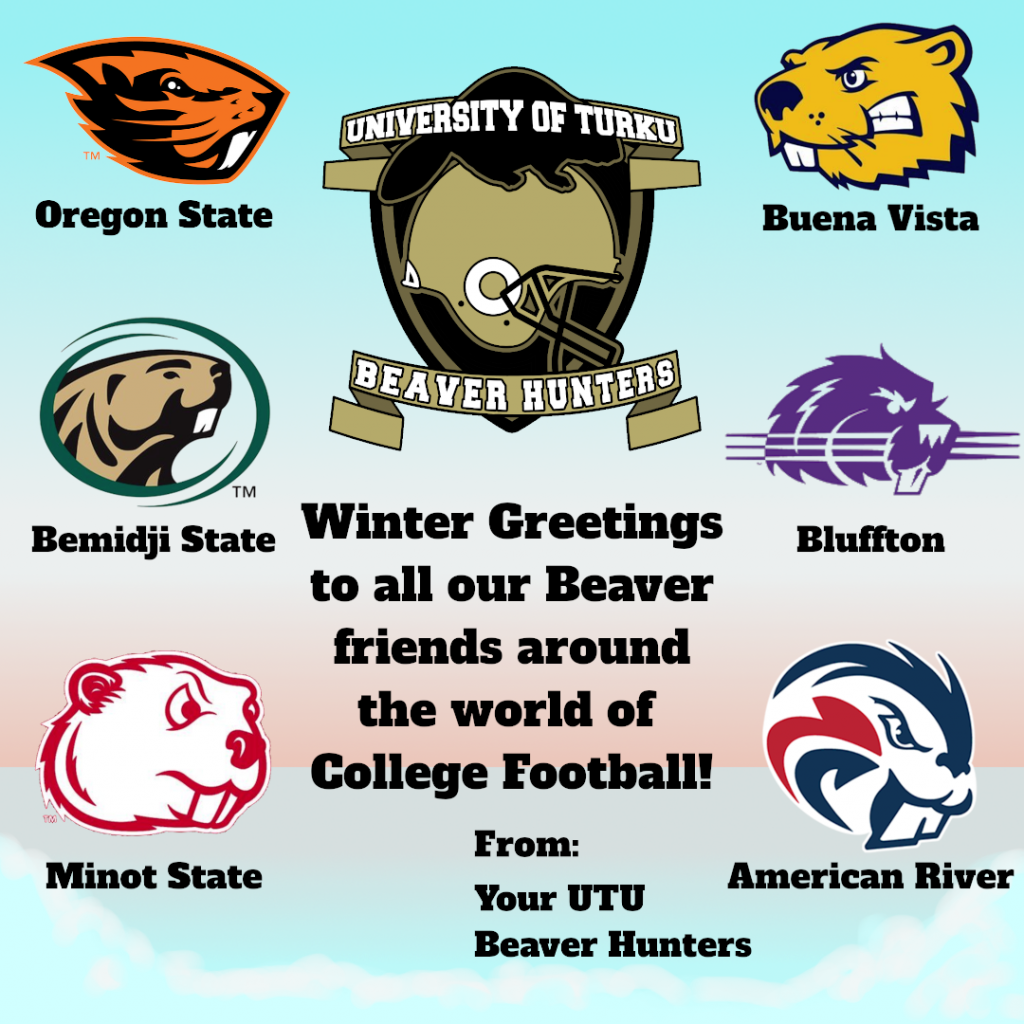 10. joulukuuta
"Mitä jenkkifutis merkitsee sinulle?"
Joukko pelaajiamme ja seura-aktiiveja vastasi kysymykseen omalta osaltaan. Mitä sinä vastaisit?

Day 10
"What American football means to you?"
Some of our players and staff sat down to think about it from their point of view. What would be Your answer?

11. joulukuuta
Joulunodotusterveiset ja kiitokset vuosikaudet jatkuneesta hyvästä yhteistyöstä Turun korkeakoulujen liikuntapalveluista ja -toiminnoista vastaavalle CampusSportille.

Day 11
Season's greetings and many thanks for years of seamless cooperation to CampusSport Turku, who offer sports services to all students and staff of the higher education institutions in Turku.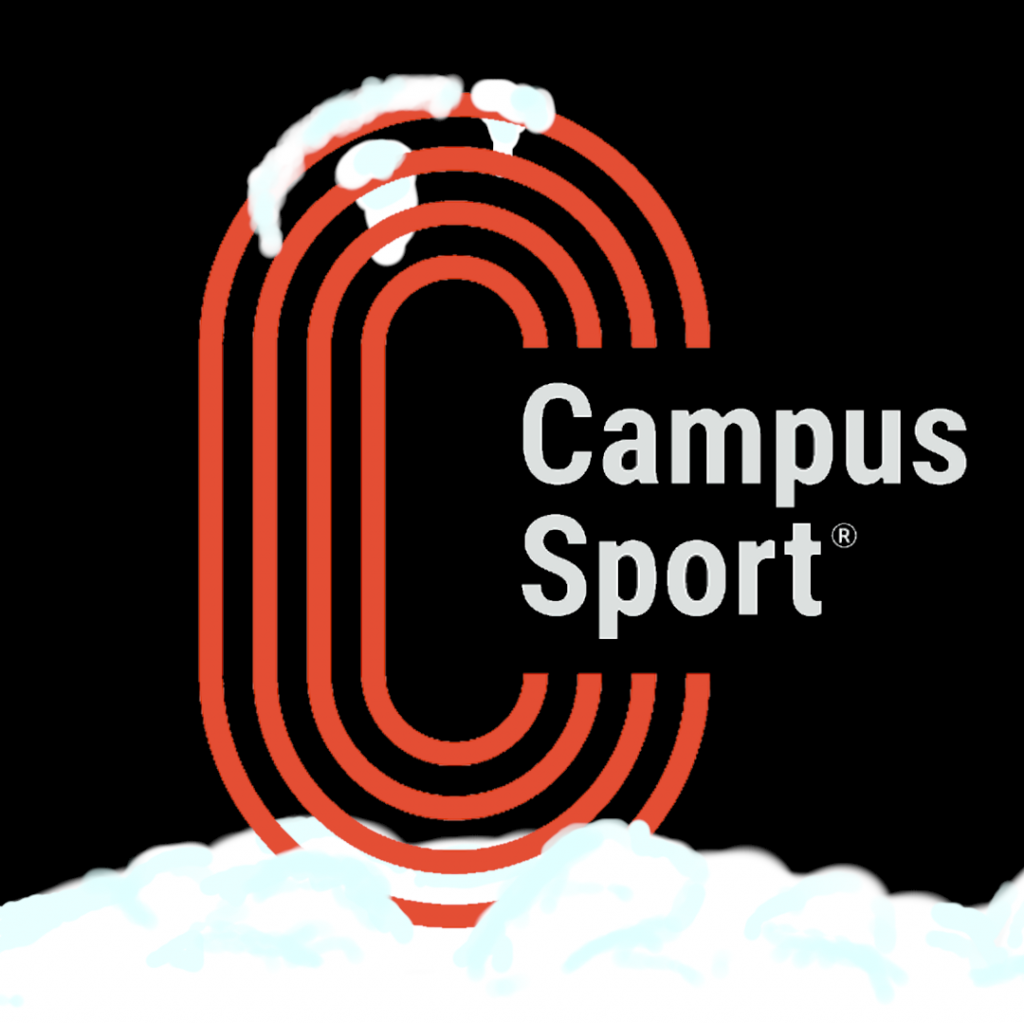 12. joulukuuta
Ennen kuin lähdimme ennenaikaiselle joulutauolle, Normaalikoulun treeneissä koitettiin ottaa kiinni hieman haastavampiakin heittoja. Kaikki tarttui, helppoa ja hauskaa.

Day 12
Before our slightly early Christmas break kicked in, we had the boys catch some more challenging throws. It was like watching Jerry Rice in his prime.

13. joulukuuta
Seuran menestys ei ole aina levännyt vain Beaver Huntersin poikien vaihtelevan levyisillä hartioilla, vaan SM-kultaa Turun yliopistoon ovat tuoneet myös naiset. 2010-luvun alkupuolella UTU Damers kilpaili naisten OSM-mitaleista saavuttaen sekä kultaa että hopeaa.
Valitettavasti viime vuosina naispelaajia ei ole ollut niin paljon, että omaa joukkuetta olisi saatu jalkeille, mutta onneksi yhteistyö on toiminut ja lajista kiinnostuneet ovat päässeet treenaamaan ja pelaamaan Turku Trojans Womenin mukana.

(Kuvat: Markku Rantahalvari, Kalle Mäkelä / Yle, Markus Polvivaara)

Day 13
Our success and bringing National Championships home to University of Turku hasn't always been the job of just Your UTU Beaver Hunters. We used to field also a women's team, UTU Damers, who competed in the students' women's league, bringing home one National title and another #2 finish.
Unfortunately we haven't had enough female players in the recent years to field a team for them, but our cooperation with Turku Trojans Women has ensured that everyone interested in the game has been able to practice and play with them.

(Photos: Markku Rantahalvari, Kalle Mäkelä / Yle, Markus Polvivaara)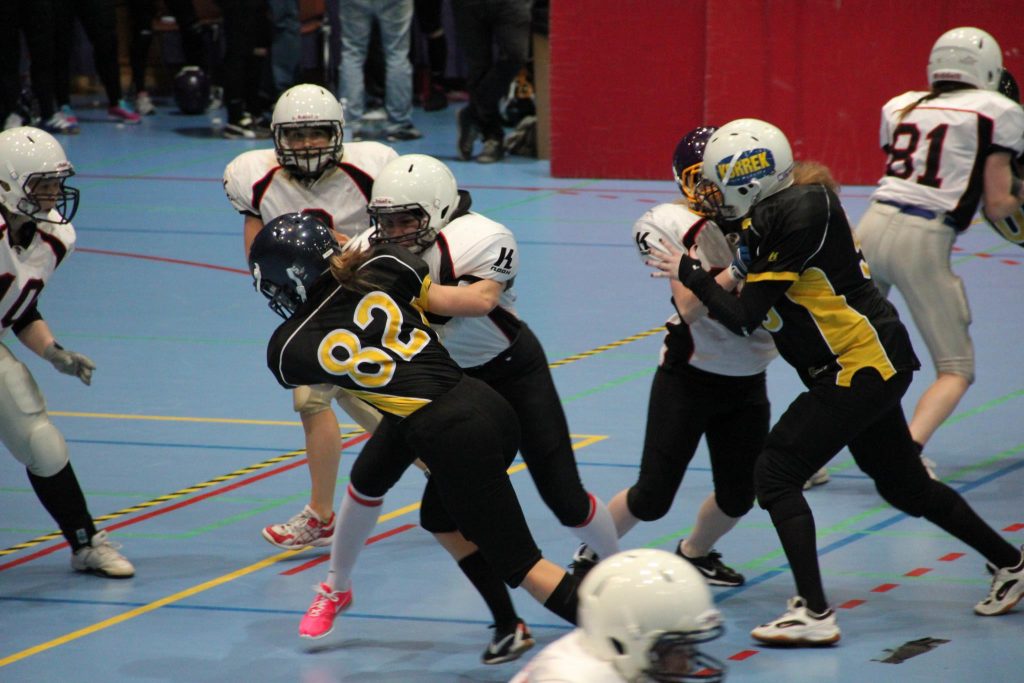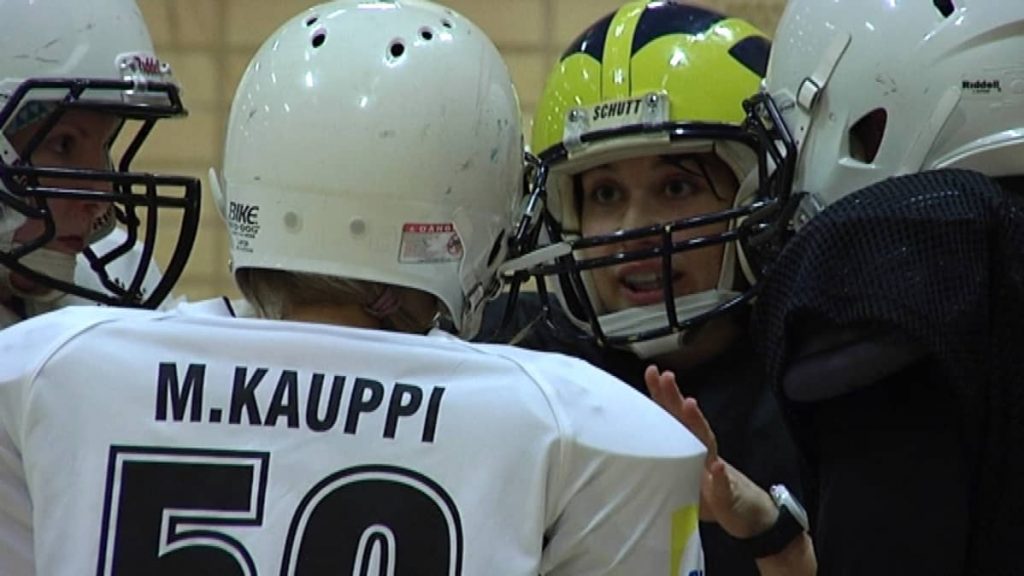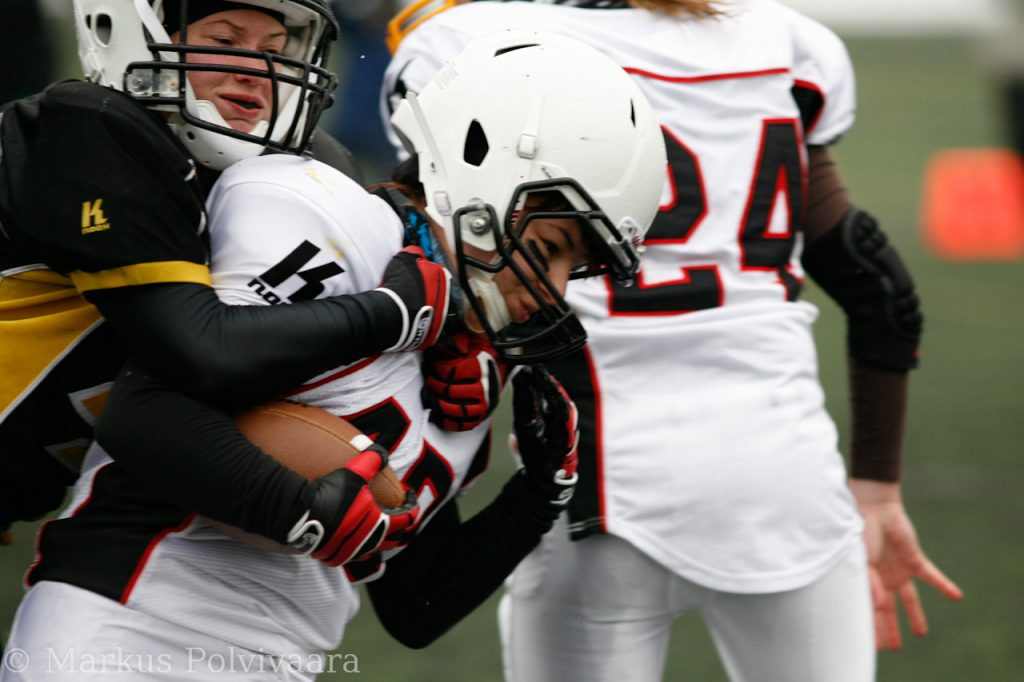 14. joulukuuta
Vieläkö on joululahjat hankkimatta lähipiirin jenkkifutarille, ja pää lyö tyhjää? Kysytään jos pojilla olisi vinkkejä.

Day 14
No idea what to get the football player in the family for Christmas? Let's see if the boys have some tips.

15. joulukuuta
Meiltä usein kysytään missä sarjassa me pelaamme. Suomen korkeakoulujoukkueet kilpailevat toisiaan vastaan Suomen mestaruudesta College Football Finland -korkeakoulusarjassa. Runkosarja pelataan vuosittain helmi-huhtikuussa ja mestari selviää Student Bowl -turnauksessa vähän ennen vappua.

(Kuva: touchdown.fi / RFL)

Day 15
Where do we compete, what do we play for? We play in College Football Finland against other university and college teams from around the nation. Regular season runs from February to April, and the National Champion is crowned at the Student Bowl tournament shortly before vappu.

(Photo: touchdown.fi / RFL)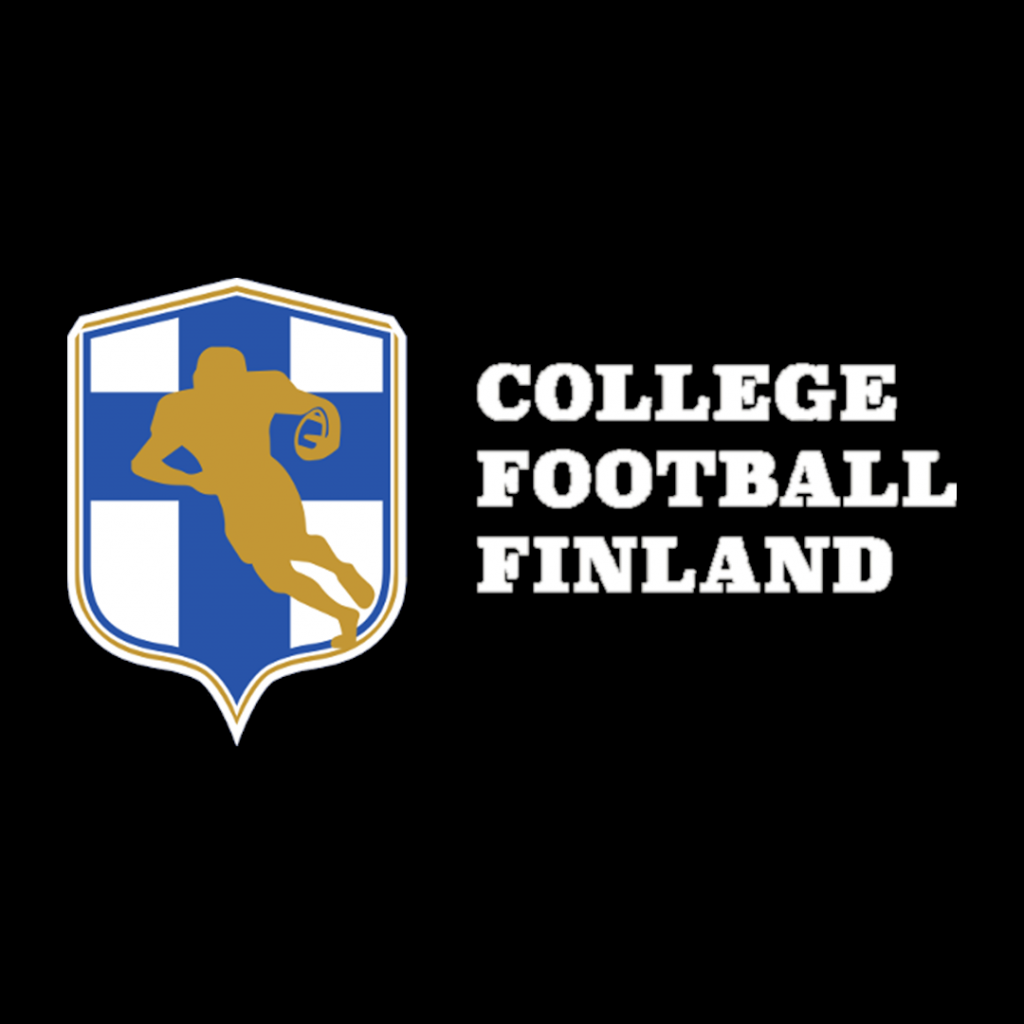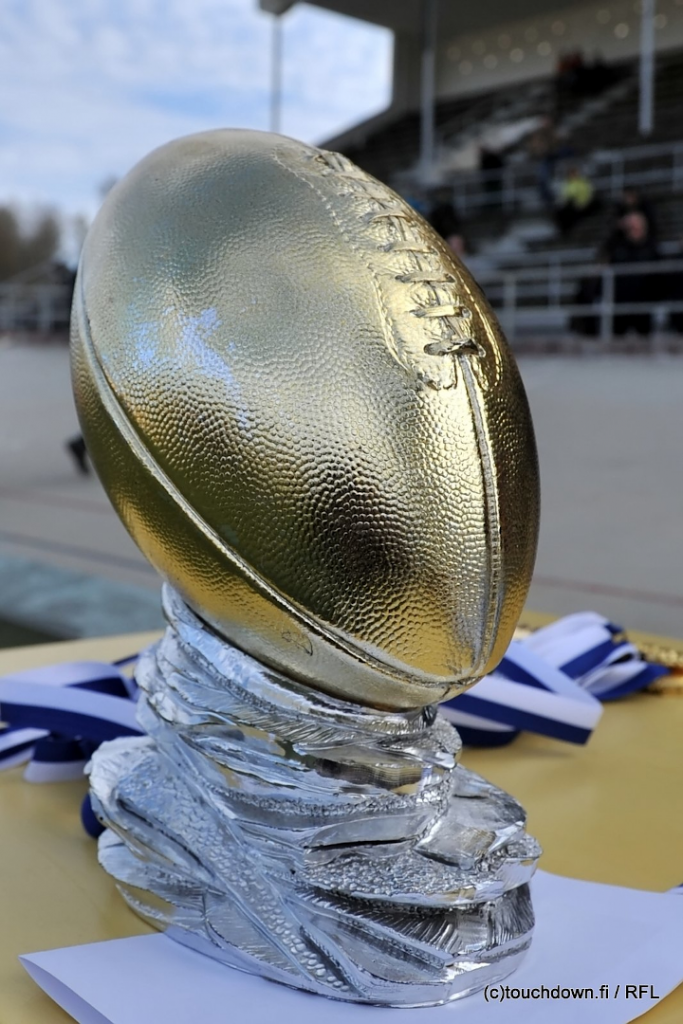 16. joulukuuta
Kaksi hyökkäyksemme avainpelaajista raotti hieman ovea treeniohjelmaansa. Pojilla on kohtuullisen erilainen lähestymistapa kotona treenaamiseen. Onkohan arvattavissa kumpi pelaa yleensä heikon puolen yksittäisenä laitahyökkääjänä sivurajan tuntumassa ja kumpaa käytetään voimajuoksussa fullbackina?

Day 16
Two of our top offensive weapons give us a little look at their training regime. The boys have slightly different approaches to excercising. Any guesses which one is the X wide receiver and which one might line up at fullback for our power run game?

17. joulukuuta
Yksi hienoimpia asioita joita pääsemme Beaver Huntersin kanssa tekemään, on toivottaa vuosittain tervetulleeksi yliopistomme uudet kansainväliset opiskelijat. Haluamme tarjota heille uuden ja erilaisen kokemuksen osana amerikkalaisen jalkapallon joukkuetta, treenaamassa ja pelaamassa lajia jota useimmat eivät ole koskaan edes nähneet.
Meillä on ollut mukana opiskelijoita ympäri maailmaa tekemässä yhteisöämme rikkaammaksi ja monipuolisemmaksi. Olemme olleet onnekkaita kun olemme voineet olla osa heidän kotiaan kaukana kotoa. Kotimaalla tai äidinkielellä ei ole kentällä merkitystä, jenkkifutis on kuitenkin lopulta jenkkifutista.
Monta kansallisuutta – Yksi joukkue

Day 17
Among the best things Your UTU Beaver Hunters gets to do every year is help welcome the new international students to Turku. We want to offer them a new and exciting experience as a part of a football team, practicing and playing a sport most of them have never even seen.
We've had international students from all over the globe making our community richer and more diverse. We are fortunate to be a part of their home away from home. On the field it doesn't matter where you're from or what language you speak, football's football.
Many nations – One team

18. joulukuuta
Vastustajasta liittolaiseksi. Turussa pelattiin vuosikaudet kiihkeitä paikallisotteluita kolmen korkeakoulun kesken, kun sekä UTU Beaver Hunters, Åbo Akademi 09ers että TUAS Tornadoes kilpailivat Turun lohkon herruudesta. Parhaimmillaan vanha Caribia Areena oli täynnä yleisöä ja meteli oli kuin suihkumoottorissa.
Sittemmin pelaajamäärät ovat hiipuneet huippuvuosista, joten vanhat veriviholliset ovat haudanneet sotakirveensä ja pelaavat tällä hetkellä yhteisen lipun alla. 09ersin pelaajat tulivat Beaver Huntersin mukaan kesken kauden 2017, ja keväällä 2020 pelattiin, se mitä ehdittiin pelata, Beavernadosin nimellä yhteistyössä Tornadoesin kanssa.
Tällä kaudella on jälleen treenattu yhdessä koko porukalla, ja sarjaan on ilmoittautunut yksi yhtenäinen turkulaisjoukkue.

Day 18
From foes to friends. For years Turku, and the old Caribia Arena, hosted heated crosstown rivalry games between three local teams: Your UTU Beaver Hunters, Åbo Akademi 09ers and the TUAS Tornadoes. With the indoor arena nearly sold out, the atmosphere was electric and the noise was second to none.
Since then the number of players has declined, so the old foes have had to bury the tomahawks and join forces under a joint banner. The 09ers joined in during the 2017 season, and in 2020 we played, what little we could, together with the Tornadoes as the Turku Beavernados.
This season all the Turku college players have been practicing as one team, and for the 2021 season, there will be one united team from Turku.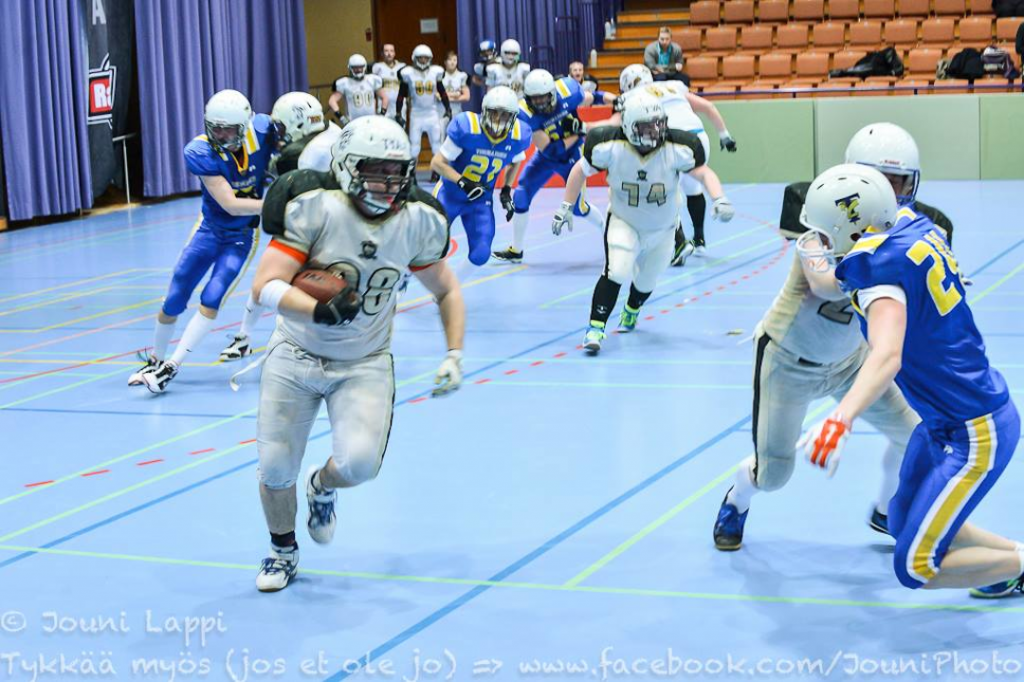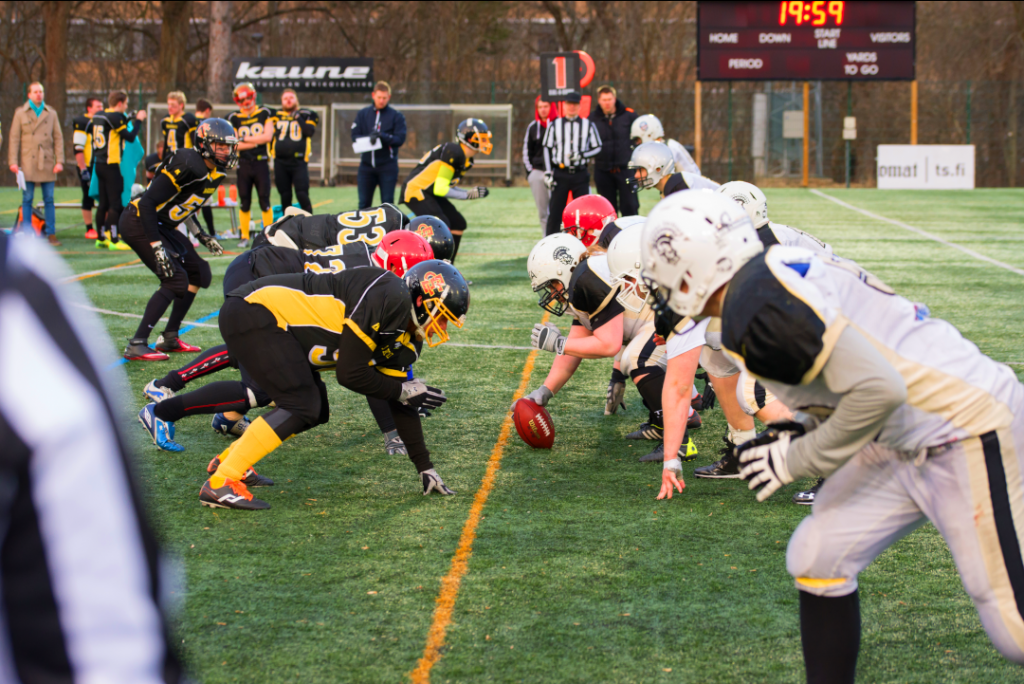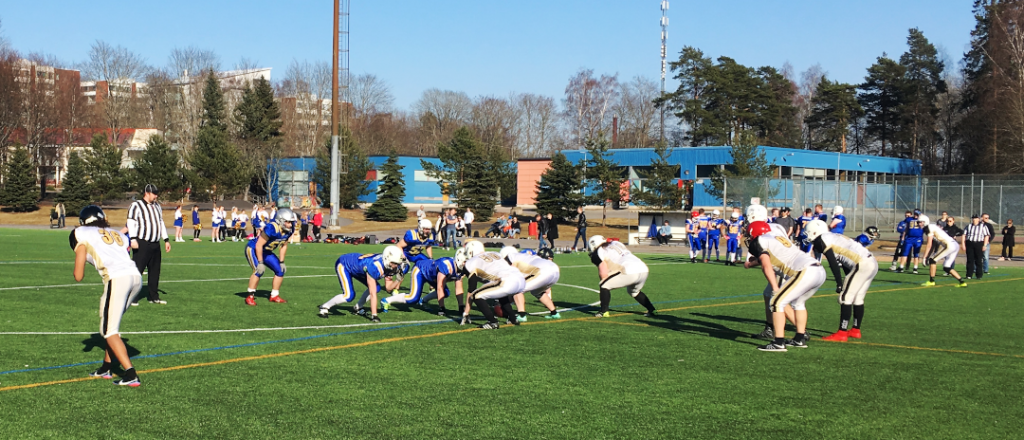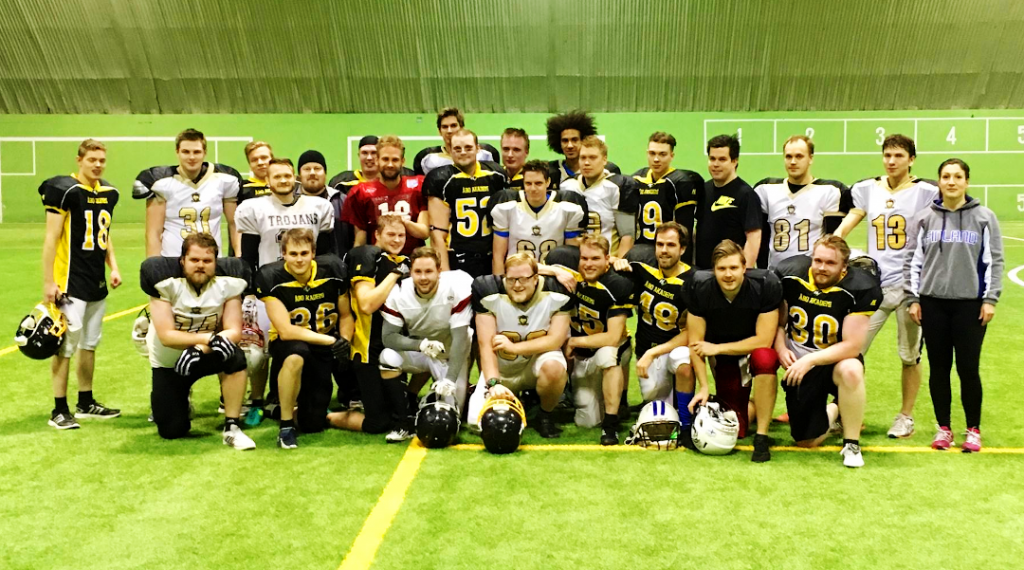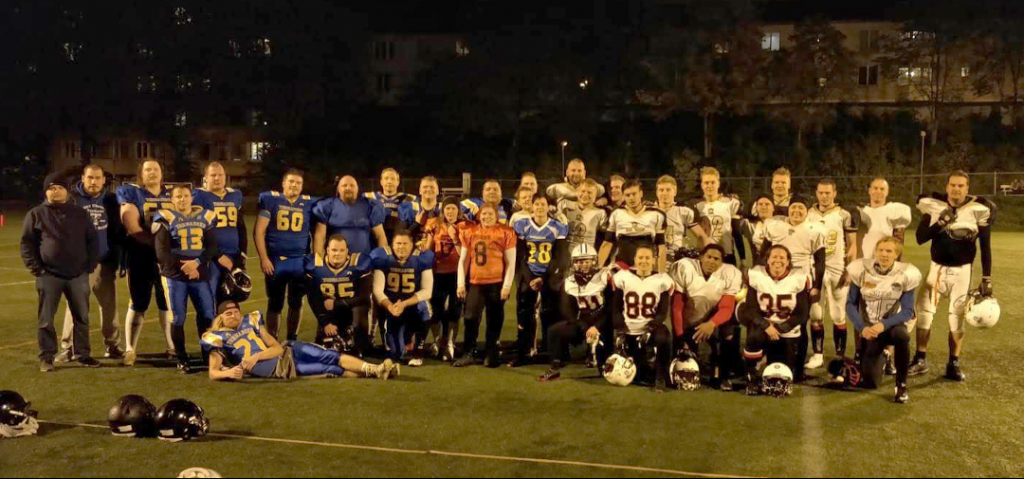 19. joulukuuta
Viime lauantain luukun takaa löytyi hieman Benny Hill -henkisiä yrityksiä ottaa palloa kiinni. Kyllä siellä onnistumisiakin tuli, kuten tänään näemme. Ja lopuksi Magnus tuli vielä näyttämään miten helppoa homma oikeasti on…

Day 19
Last Saturday you got to see a Benny Hill inspired set of outtakes from our practice in Norssi. The boys actually caught a few passes, it wasn't just a series of spectacular wiffs. Why not take a look at those as well. And in the end, Magnus had to show how easy it really is…

20. joulukuuta
Vuodenvaihteessa vaihtuu myös seuran puheenjohtaja. Beaver Hunters -organisaatiota viimeiset pari vuotta luotsannut Jaakko Turto siirtyy uusien haasteiden pariin ja puikkoihin astuu Teemu Rantanen. Seuraavassa lyhyesti molempien mietteitä.

Day 20
New year marks also a changing of the guard at the helm of UTU Football. Chair Jaakko Turto is moving on towards new challenges and Teemu Rantanen takes the reins. Both shared a few thoughts with us.

21. joulukuuta
Neljä luukkua jäljellä, historiallinen neljän mestaruuden putki. Kausien 2012-2015 loppusaldoksi muodostui 21 voittoa ja 5 tappiota, ja erityisesti lopputurnausotteluissa Beaver Hunters oli täysin lyömätön.
Yhteenhitsaantuneen joukkueen erityisenä vahvuutena oli sarjan kovin puolustus, jonka ylivoimaisin suoritus nähtiin 2013 Tampereella räntäsateessa pelatussa lopputurnauksessa; kolmessa ottelussa puolustus ei päästänyt vastustajaa kertaakaan pistesuorituksiin ja aiheutti itse kolme safetya.
Kun tähän puolustukseen saatiin seuraavalle kaudelle toiselle puolelle palloa moderni ja tulivoimainen hyökkäyspeli, tuloksena oli yksi liigahistorian parhaista joukkueista. Velodromilla nähtiin erittäin laadukas lopputurnaus, ja tuon mestarijoukkueen avauskokoonpanon pelaajista lähes kaikki ovat myöhemmin saaneet vastuuta Vaahteraliigassa, maajoukkueessa ja Ruotsissa tai GFL:ssä asti.

Day 21
Four days to go, so we take a look back at the historic run of four National Championships in a row from 2012 to 2015. Your UTU Beaver Hunters went 21-5 and were especially unstoppable in the championship tournaments.
The team's most formidable weapon was the airtight defense, that posted some stupid numbers in the freezing sleet of Tampere in 2013. Three games, no points allowed, three safeties scored.
Next season brought us one of the greatest teams in league history, when that defense was combined with a modern high-octane offense. Final tournament at the Velodrome was high quality football, with nearly all starters from that National Championship roster going on to see major playing time in Maple League, Finnish National Team, Swedish league or GFL.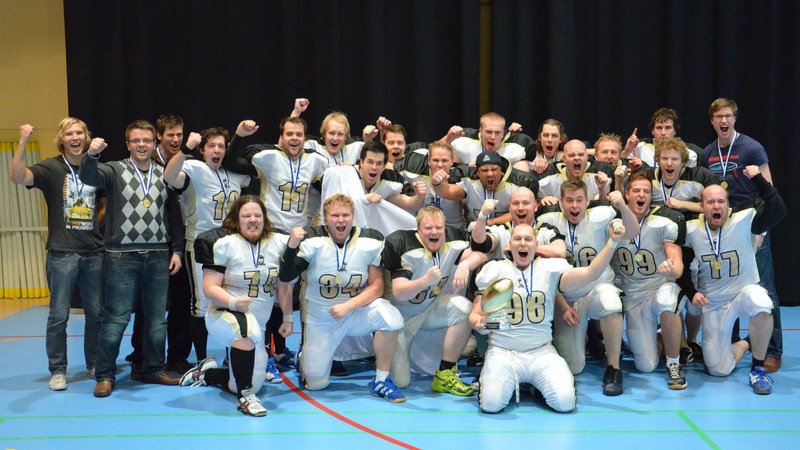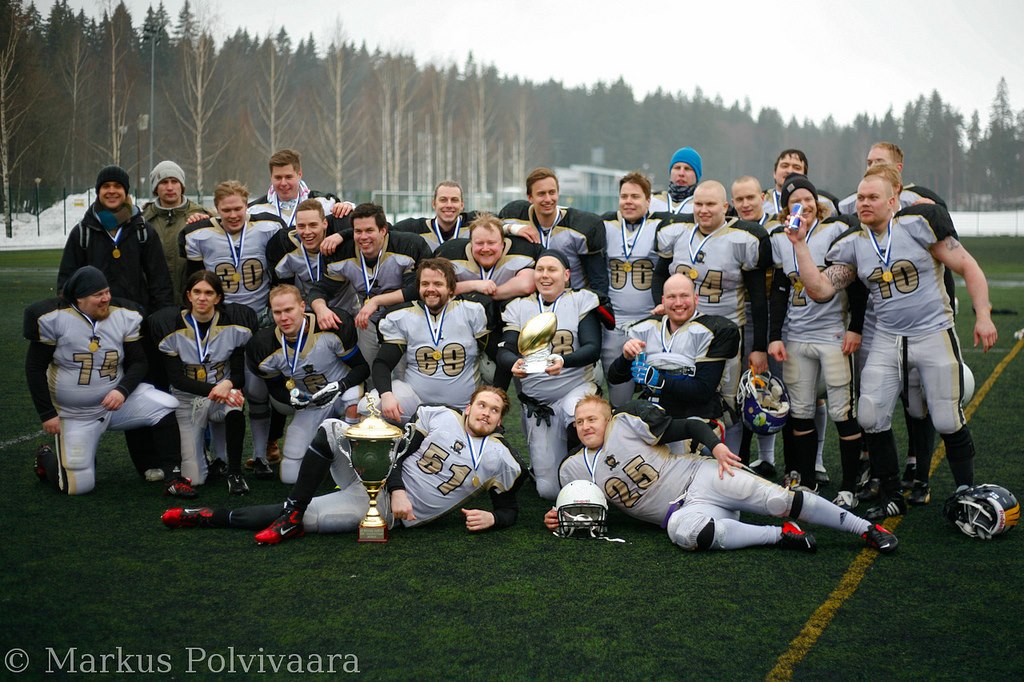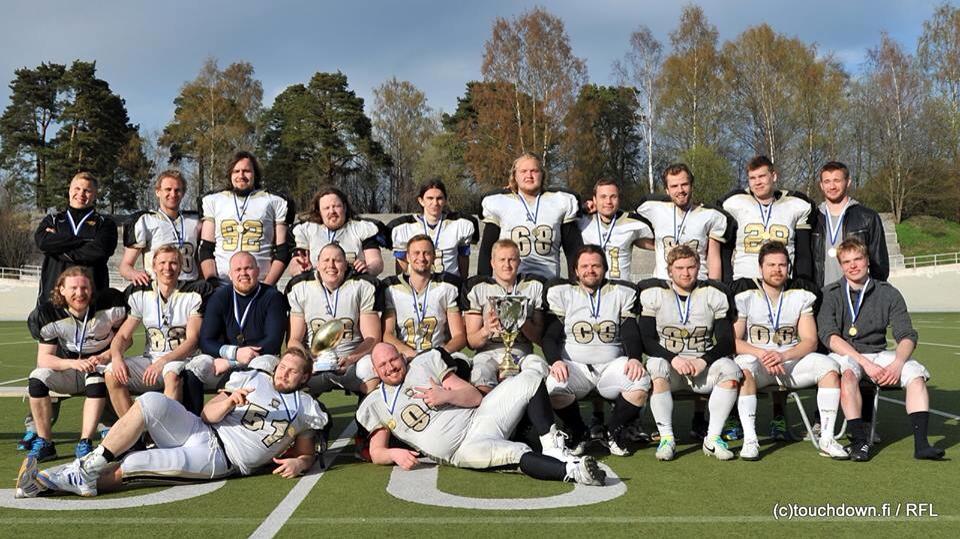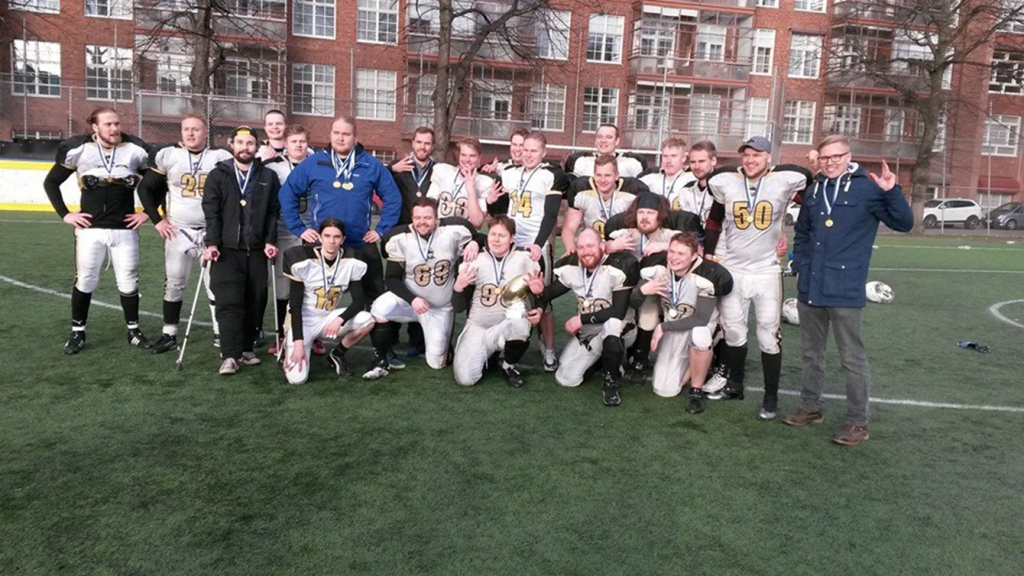 22. joulukuuta
Joulun lähestyessä pojat haluavat lähettää lyhyet mutta toisaalta syvälliset jouluterveiset treenien lomasta.

Day 22
Getting closer and closer to Christmas, we hear some quick and somewhat thoughtful Season's Greetings from the boys in the middle of practice.

23. joulukuuta
Valmennus ja muut taustajoukot toivottavat hyvää joulunaikaa!

Day 23
Happy Holidays from our coaches and supporting staff!

24. joulukuuta
Koko seuran puolesta, kaikille seuraajillemme…
Hyvää ja rauhallista joulua!

Day 24
From All of Us to All of You…
A Very Merry Christmas!